Living with a
healthy skin color.
Skin tells you.
It can tell you physical condition,
lifestyle and even satisfaction level of a person.
That is why many of us long for skin
that always looks healthy and fresh.
So, we thought.
There should be skincare
that improves skin from inside
but also instantly brightens up
and gives healthy impression.
Through our experience and expertise,
we developed a serum
containing beauty ingredients
at their best balance.
IROIKU is the serum that gives
instant glow and smooth skin tone.
Simple and comfortable.
Start your new beauty routine
and restore your natural healthy skin tone.
Two approaches to healthy skin color
IROIKU METHOD
Approach 1

Skin conditioning from the inside Leads to healthy skin
Approach 2

Instant tuning from outside Lively impression with just one application
plus

The scent makes you feel bright and healthyRefreshing fragrance supervised by essential oil professionals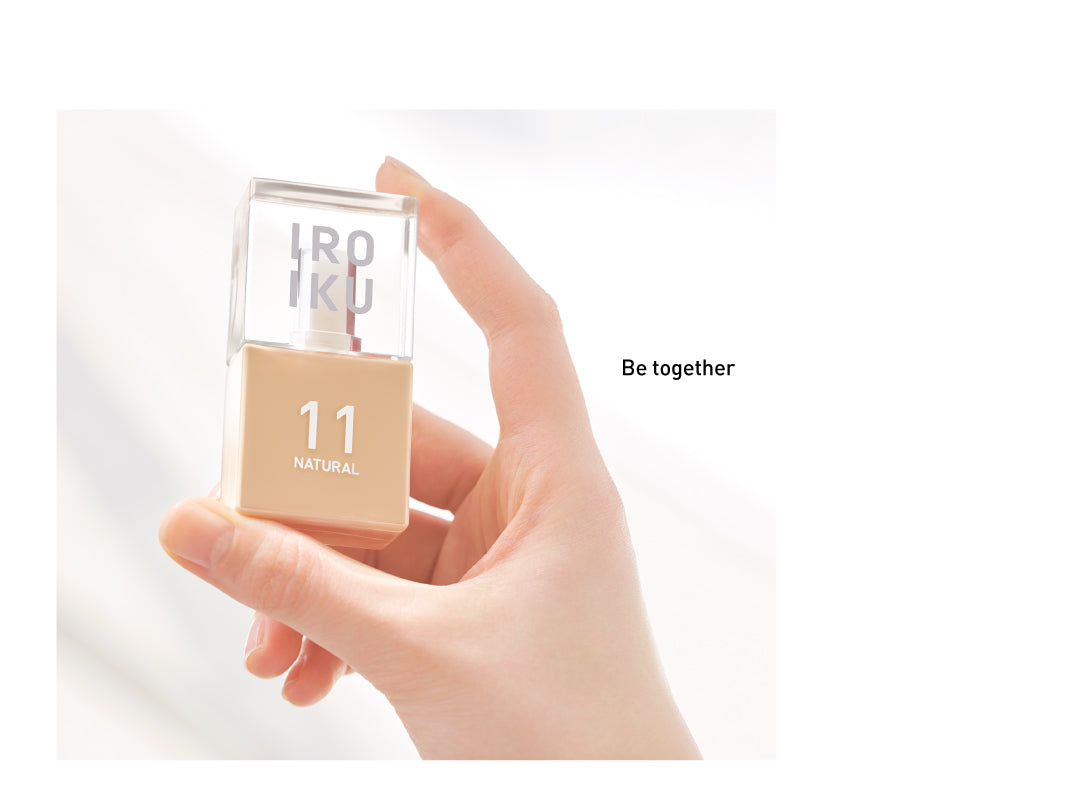 Promises clean formulations
IROIKU PROMISE
Consideration for skin and environmental friendliness.
We pursue sincere manufacturing
while only using materials of natural origin.
Free of synthetic color additives
Free of the former labeling designated ingredient
Synthetic fragrance free
Non-comedogenic
Paraben free
No animal testing
UV absorbent free
What IROIKU values
IROIKU POLICY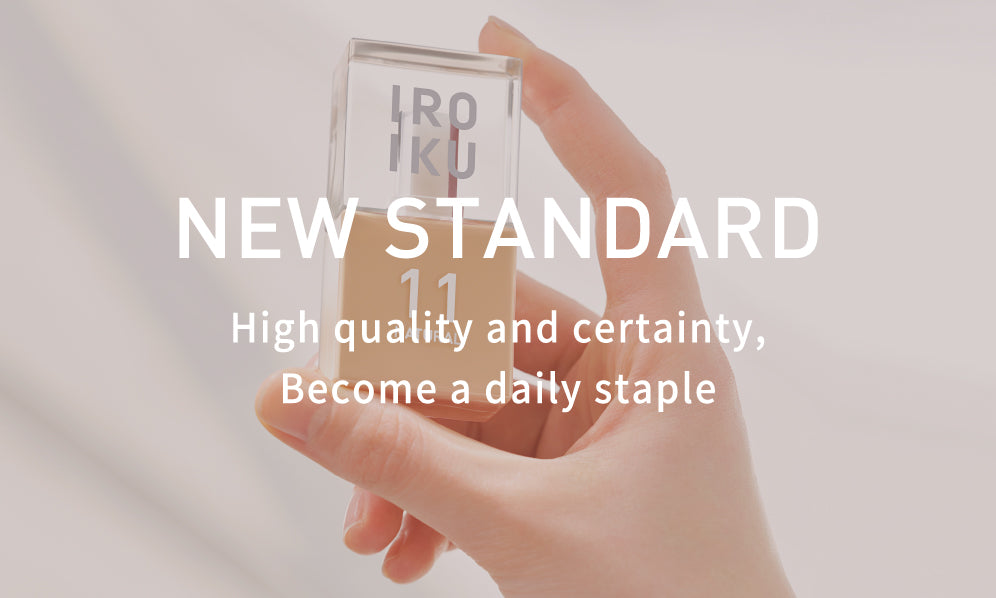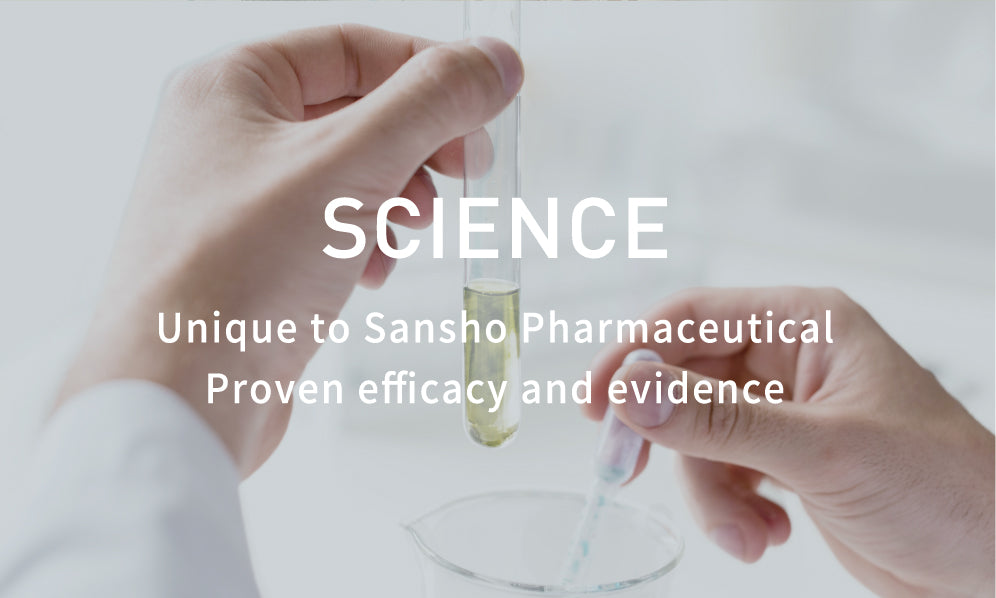 LINE UP
The world of IROIKU in 3 minutes
Clear color that anyone can use at any time
Suitable for nighttime care.
For people who focus on skin care
| 00 Clear |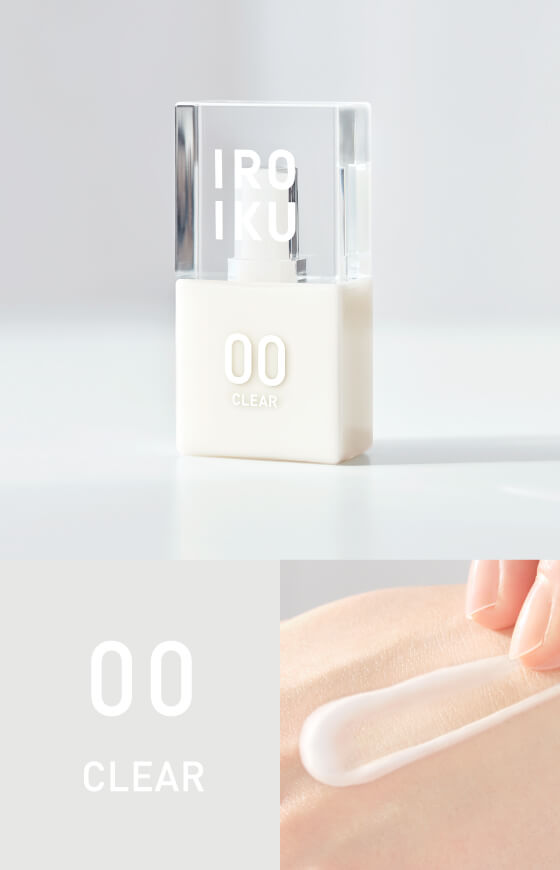 Three colors that bring you
one tone closer to healthy skin tone
Reduces dullness and
leaves it bright and fresh
| 11 Natural |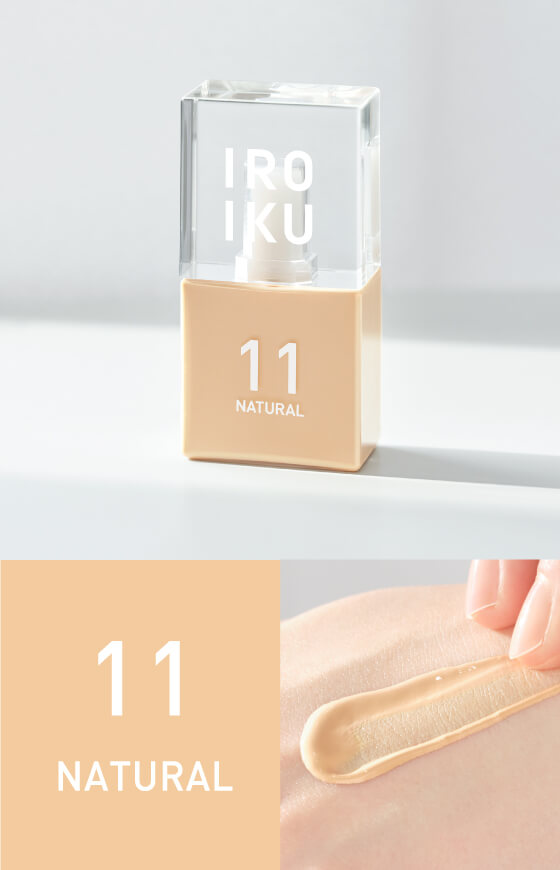 Creates a rosy complexion
to accentuate clarity
| 12 Pale Pink |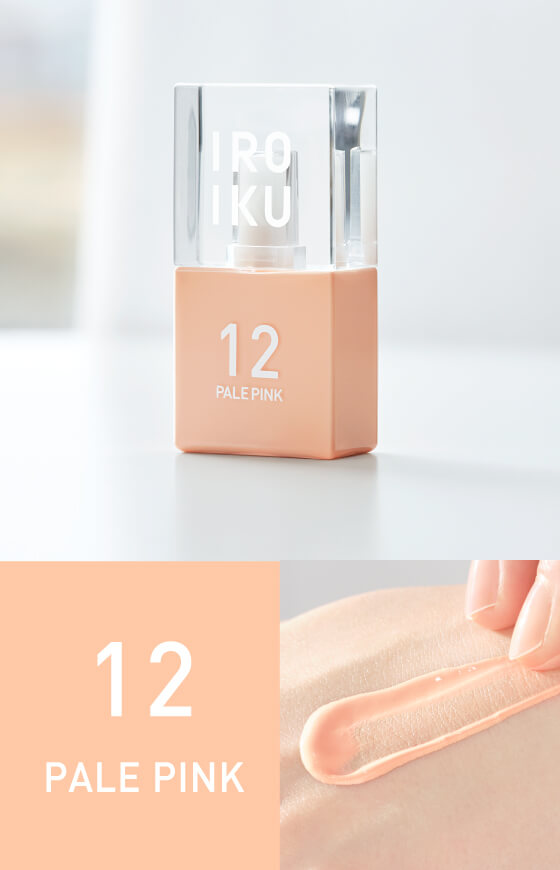 Natural and sharp look


| 13 Healthy |
Two colors that diminish the skin irregularities
For skin with spots and
freckles
| 21 Coral |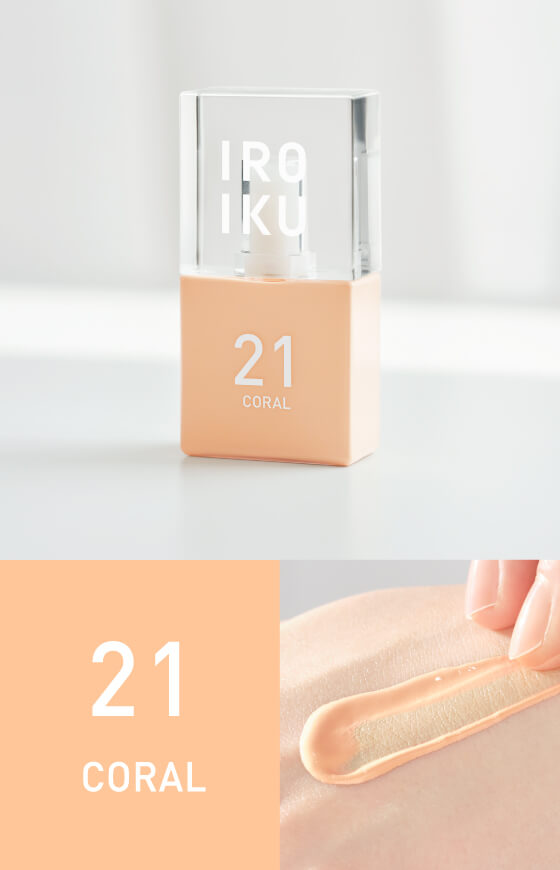 For skin with
redness
| 22 Lime Green |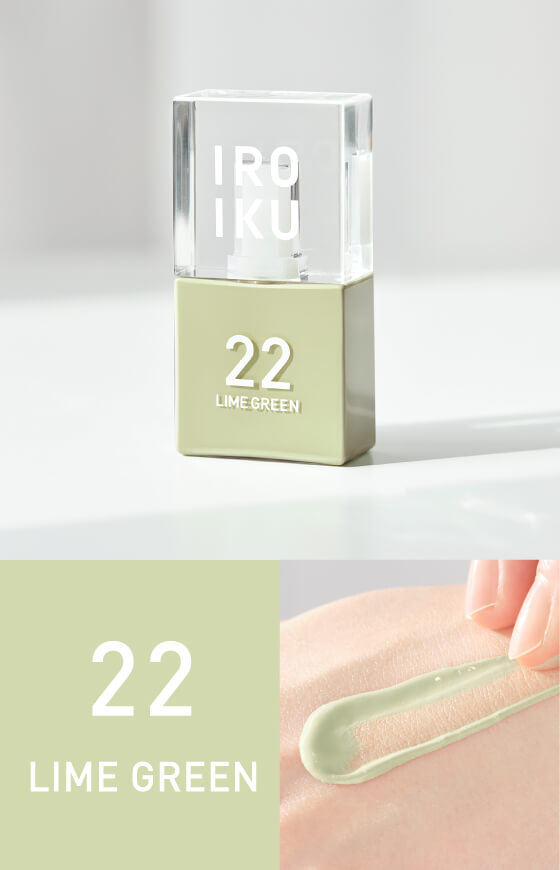 IROIKU Facial Soap
60g 550yen (tax included)
Refreshing feeling with a rich foam
How to use
HOW TO USE
How to use in the morning
Facial Soap

Skin Tune-up Serum
(Clear or Colored)

After washing your face*1, take an appropriate amount of Skin Tune-up Serum onto your palm.

Apply it to cheeks and massage quickly using the entire pad of your fingers. Do the same on the forehead and chin and apply to the entire face.

Use your fingertips to carefully apply to small areas such as the sides of the nose, around the mouth, and around the eyes. Finally, wrap your face with the palm of your hand*2. (You can effectively correct skin color by reapplying during the day.)

Usual steps such as UV care and make-up
How to use at night
Facial Soap

Skin Tune-up Serum (Clear)

After washing your face, take about 2 cm in diameter (0.6 mL) of Skin Tune-up Serum (Clear) onto your palm. Massage*3 it over the entire face. Use fingertips to apply the serum to small areas carefully.

Apply an appropriate amount of Skin Tune-up Serum to areas of concern with dryness such as around the eyes and mouth.
Greeting
Sansho Pharmaceutical is challenging a new stage.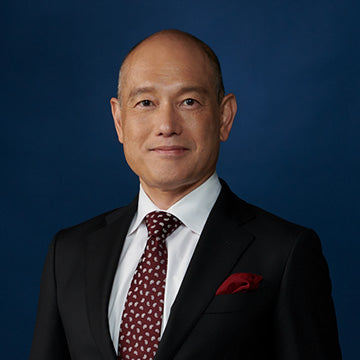 In Showa 35 (1960) Sansho Pharmaceutical was founded with the corporate philosophy: "We contribute to society by satisfying the fundamental human need to stay young and beautiful forever".
Since then, for more than 130 years counting from the establishment of the former Jinnai Sansho-do Pharmacy, we have continued to develop beauty ingredients with high efficacy and reliable safety in order to respond to aging concerns.
Underlying all research and development is the concept of "better ingredients, better cosmetics".
We are to develop beauty ingredients and cosmetics that exceed customer expectations and are more effective and safer. With this in mind, and without changing the "pharmaceutical method" that prioritizes the development of highly effective beauty ingredients, we have developed more than 130 beauty ingredients, including Kojic Acid, which created a concept of "brightening" for the first time in Japan, CTP, a hair-restoring ingredient, and Serumvital, an anti-wrinkle ingredient. And we have developed cosmetic products containing them.
Based on the concept of "better ingredients, better cosmetics", we intend to evolve to a new stage leveraging our strengths in ingredients, compounding, and formulation capabilities.
We will take on the challenges of manufacturing from the perspective of ecological, ethical, sustainability, and diversity. Furthermore, we will provide all services related to cosmetics manufacturing, such as contract development of beauty ingredients and various tests on safety, stability, and efficacy.
We will continue to respond to aging concerns and strive to be a company that can respond to desire to "stay young and beautiful forever" from every angle.
Sansho Pharmaceutical Co., Ltd.